Animaticon

Spritan

Age

: 21


Number of posts

: 7


Registration date

: 2017-12-27

Pretty cool. So who is Vei? What's his backstory?
Animaticon

Spritan

Age

: 21


Number of posts

: 7


Registration date

: 2017-12-27

Thanks for the feedback!

So Vei is the prominent leader of a league called TTL (TruthTrial League), a league that consists of 10 members that gained different powers through fatal tragedies. Vei had the worst of these tragedies before he was leader however, as he fell upon this barren land directly from a black hole, with no shelter or others in sight. Roaming the emptiness of the land, he started to lose hope on life itself, until he was confronted by a mysterious light. This light told him about his fate of becoming leader and that he must defeat the opposing league, R.U.I.N., from creating a war of destruction. Thus, Vei began his training in hopes of seeking out the other 9 members of TTL...
Animaticon

Spritan

Age

: 21


Number of posts

: 7


Registration date

: 2017-12-27

Completely forgot to explain his powers...
Vei's primary power is shadow-element attacks and flames. He could fire waves of dark energy of use it to accelerate himself at high speeds (as shown in the sheet)
He is also able to attack by using special Images of himself. These red Images can briefly add hits to Vei's combos or be switched with Vei if he is taking light damage. They can't be used against strong attacks however.
Vei can also open portals to his own Realm to travel mid-distances around in the real world (usually his best option when fighting opponents that possess flight of any kind. He can use the portals to grab them and return them back to the ground).
From the portals also comes Vei's Summons. They consist of a Sword, Claw, and Sharpshooter summon (which I also have sheets for).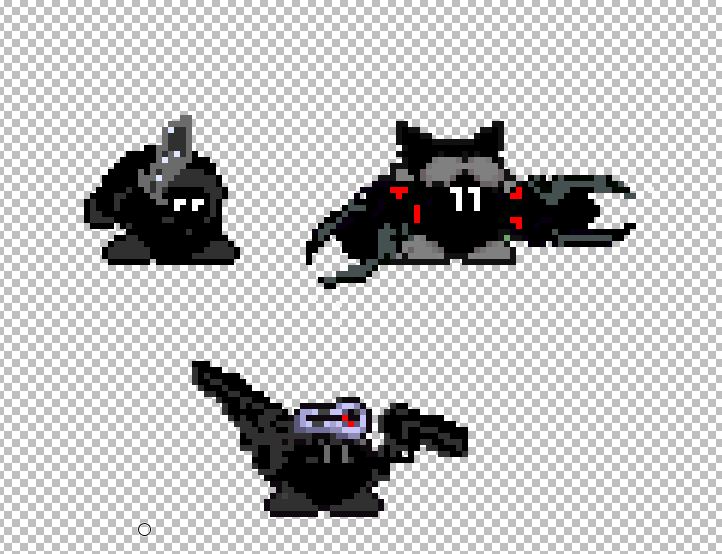 Finally his sword, Prisma, has an ability to seal off an opponent's energy or aura for a set time. The seal takes effect if Vei manages to hit the opponent with Prisma at least 10 times. He can only seal one thing at a time however, and if the opponent manages to avoid the hits for 10 minutes, the effects will perish and Vei won't be able to try and seal again for some time.
Not bad he seems pretty cool. I suggest not using a straight up black or near black color for his skin though. it makes it extremely difficult to differentiate between his body/wings/feet etc. You can make him a dark color but yours is def too dark.
Animaticon

Spritan

Age

: 21


Number of posts

: 7


Registration date

: 2017-12-27

Permissions in this forum:
You
cannot
reply to topics in this forum