Davidchao23

Spritan

Age

: 18


Number of posts

: 51


Registration date

: 2015-10-24


Location

: In a galaxy far, far, a


This is Goldy. He's a electric kirby who possesses the power of electricity. He also has a spark sword that could use electricity. Some might would mistake him for a pikachu kirby.

No. Seriously, people do mistake him.




___________________________________________________________________________________________


*Struggles with sprite fight animations*
*Gets salty*
Davidchao22 wrote:Some might would mistake him for a pikachu kirby.
I, am sadly one of these people.
Won't really bother with giving any critique here, too lazy and tired after a long day.. But I did enjoy what you had tried to portray here.
Looking forward to seeing more of this character, and future content from ya!
I mean he looks like pikachu's cousin or something lol

So I like what ya got going here but the flow is off a bit. Things feel really static in some parts and awkwardly dynamic in others.

For example, when the pikachu kirby is walking up to the sandbag he starts off walking slow but then speeds up and just stops in front of the kirby.

Physically that doesn't make a whole lot of sense. It should be that he's walking at his set, non-changing pace that slows down a bit as he approaches the sandbag.

Think about when you walk up to something. On the way to the object you walk at a continuous speed and then you slow down to a stop as you get within a certain radius of it.

That's how he should be walking up to the sandbag.

Secondly, why is the sword just falling from the sky and going back into the sky? Did he summon it? If so, then there needs to be some kind of dramatic sequence showing that he's summoning the sword cuz otherwise the sword just looks like it's falling out of nowhere.

You may want to slow down the two sword strikes before going into the strike into the air. They feel really static and stiff. Add some more frames and throw in a bit more animation in there with some easing.

And lastly the electric shock attack thing seemed kinda weak. Try to strengthen it up a bit more by making it last longer and making it a bit more dramatic
Davidchao23

Spritan

Age

: 18


Number of posts

: 51


Registration date

: 2015-10-24


Location

: In a galaxy far, far, a
I get what you're saying and thanks. I was honestly lazy about the walking part, I was thinking about getting a new thunder effect, and I need a I do need a way to summon the sword that fits with him. Again thanks for the critique.




___________________________________________________________________________________________


*Struggles with sprite fight animations*
*Gets salty*
No problemo dude! Keep it up!
Davidchao22 wrote:I do need a way to summon the sword that fits with him.
how about he gathers electricity into his hand that solidifies into a sword. and later on when he has more experience he can form it faster with a quick bolt followed by a flash then him just holding it.
just a suggestion.
also when he hits sandbag with the lightning, make the camera shake more than that, right now its barely noticeable, and since sandbag gets blown away the camera should shake more to indicate a larger impact.
___________________________________________________________________________________________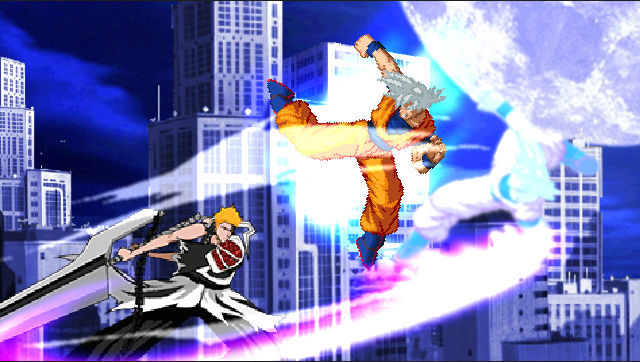 Davidchao23

Spritan

Age

: 18


Number of posts

: 51


Registration date

: 2015-10-24


Location

: In a galaxy far, far, a
I was thinking he summon a cloud that holds the sword and shoots it at Goldy for him to wield.

Also, yeah I should shake the camera more on powerful attacks.




___________________________________________________________________________________________


*Struggles with sprite fight animations*
*Gets salty*
Permissions in this forum:
You
cannot
reply to topics in this forum