DopplerCain

Spritan

Age

: 20


Number of posts

: 138


Registration date

: 2015-03-19


Location

: Mivas
Hey guys!
This is the sheet: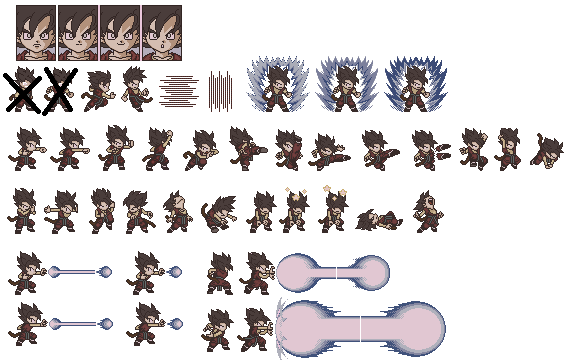 IMPORTANT! The sprites marked with a X are not meant to be used! Second line, sprite four is used as "standing".
Description:
Jinkō Chinō, a.k.a AI, fell into a bio chemical pool of radioactive, water-like stuff.
He then got the powers to teleport, throw energy waves and such.
Age: 13
Birthday: 25.04
Hobbies: Watching YouTube, beat up other guys, look at beautyful girls
Likes: Long conversations, writing
Dislikes: Racing and exploring
Altough he hates racing, he is very fast and won 5 golden medals at his school in the last month.
In combat his speciality is not being fast, it's his ability to teleport.
Should he fail to attack, he can teleport almost instantly to another point in range.
He normally can teleport about 20-35 meters.
Need more information? Send me a PM or write a comment!
- Cain
P.S: Likes/Dislikes are the same as Tasue's but inverted. Credit goes to MegatonBrik / Caynimator
Face

Spritan

Age

: 32


Number of posts

: 13013


Registration date

: 2010-04-29


Location

: Returned-ed
Are you gonna edit him further?
Permissions in this forum:
You
cannot
reply to topics in this forum