Yoshiku

Spritan

Number of posts

: 2


Registration date

: 2013-04-16

Hi guys!
I am working on a project to design and and create few simple sprite animations to work in a game engine like Game Maker.
So far I outlined the sprites to check if everything works together, before filling in the colours and shading.
The character's visual style and number of animation frames requiered for each moves were based on BlazBlue animations, and how many frames do they use for those moves
If any of you have a little bit of time, could you check out the gifs of those and let me know what you think, or what to improve?
idle:
walk backward:
walk forward:
crouch:
attack:
thanks so much! :)
Face

Spritan

Age

: 32


Number of posts

: 13013


Registration date

: 2010-04-29


Location

: Returned-ed
.......Damn very nice start...you've got some skill
son of a bitch. Someone with actual talent.

That's it guys, wrap up your animations, this guy's just won everything.

In all seriousness though, your outlines do look amazing. The only thing about them that bugs me is their chunky movement. All of them are a little to... what's the word...? laggy? I'm gonna go here with laggy.

If you're going for smoothness with these sprites, you're going to want to add more fluidity to the coat and some of the things hanging off it.

For example, when he crouches, those strings (i'm just guessing their strings) Immediately hit the ground instead of, sort of flutter. These outlines are great, they just lack fluid motion. Mostly with the strings though. The idle looks great, the only thing that stands out would be the strings, they move kind of awkwardly.

The walking back movement is very nicely done, and I think it's where you did the strings best. The same goes for your walking forward movement.

The only one I have a real problem with would be the crouching movement.

Well that's my two sense, I hope I was able to help. Maybe someone whose better than me can give you a hand.
___________________________________________________________________________________________
ADOPT A CHAO!!
(figuratively speaking of course)
make him/her/it/them breath or something while their crouching.
___________________________________________________________________________________________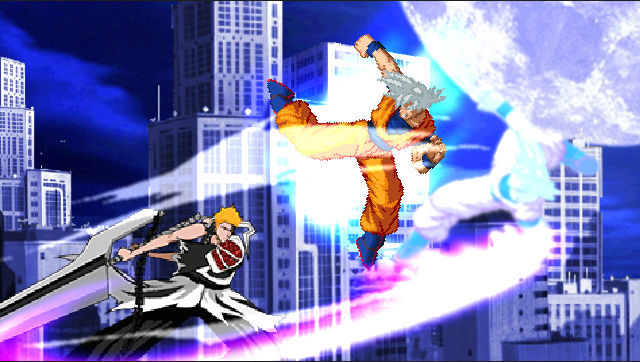 Leo

Moderator

Age

: 23


Number of posts

: 9201


Registration date

: 2009-05-23


Location

: Brazil
yeah, the sprites look cool.
what needs work is the animation. it's choppy. it doesn't work with these types of sprites. and even if they're animated on two's, the timing still should be more or less solid.
Ping

Spritan

Age

: 25


Number of posts

: 20161


Registration date

: 2010-09-15


Location

: Madison Wisconsin
Amazing talent. This is the style I'm aiming for dude. I'd make the moves more gradual. Make more frames before whatever move he is about to do, and then make him do the action.
___________________________________________________________________________________________
@darkdragon581

wrote:ping, i don't see you getting 'boodie' anytime soon, i don't care if your black, its most likely not going to happen
Yoshiku

Spritan

Number of posts

: 2


Registration date

: 2013-04-16

wow, so many positive comments, wasn't expecting that, thanks guys so much! :)

I certainly agree about those strings/bandages actually, they do just flop on the ground... so that is something to work on, also adding breathing or doing something while the character crouches is also a good idea, it does look kind of ..stuck on that frame rather than alive while crouching.

As for making moves more gradual and smooth, like I mentioned I am fallowing the number of frames BB characters use for those kind of moves, these will still be stretched and timed corectly in the engine so that might make it look more smooth.

again, thanks guys! I will post next time when I get to colouring those :)
Ping

Spritan

Age

: 25


Number of posts

: 20161


Registration date

: 2010-09-15


Location

: Madison Wisconsin
Thanks for the reply. Surely, you know exactly what you're doing. You really have us itching to see more at the edge of our seats. Can't wait to see more of your work my nigga.
___________________________________________________________________________________________
@darkdragon581

wrote:ping, i don't see you getting 'boodie' anytime soon, i don't care if your black, its most likely not going to happen
NS01

Spritan

Age

: 27


Number of posts

: 6082


Registration date

: 2009-09-07


Location

: UK england
Oh my lawd I love BlazBlue you son of a bitch, I love you. No homo, nice sprites.




___________________________________________________________________________________________


"On my business card, I am a corporate president. In my mind, I am a game developer. But in my heart, I am a gamer." - Satoru Iwata 1959-2015
Permissions in this forum:
You
cannot
reply to topics in this forum