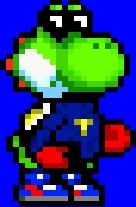 1. his name is Tristan and as u can see he wears red boxing gloves
2. grow at will and streetboxing
3. dislikes water and work
4.he has a competitive personality
5.likes to show off and breakdance
6. He doesnt talk much and pretty much stays to hisself.
Leo

Moderator

Age

: 23


Number of posts

: 9201


Registration date

: 2009-05-23


Location

: Brazil
lock plz

No seriously, this is bound to get locked the first time some mod or admin sees this.
oh crap forgot to make vid my bad
Yep, this is getting locked. Why'd I even comment? Idk...Make a Vid of him, he looks pretty cool though.
darkdragon581

Spritan

Age

: 26


Number of posts

: 2994


Registration date

: 2009-12-05


Location

: Austin, Minnesota
"UGHH!" is what i said when i saw this, mario fan characters are soooo lame, kirby characters often look cool but mario fan characters almost NEVER look cool

if you want this unlocked pm a mod or admin with an animation, fanart or something else to make this other then a dump
Permissions in this forum:
You
cannot
reply to topics in this forum